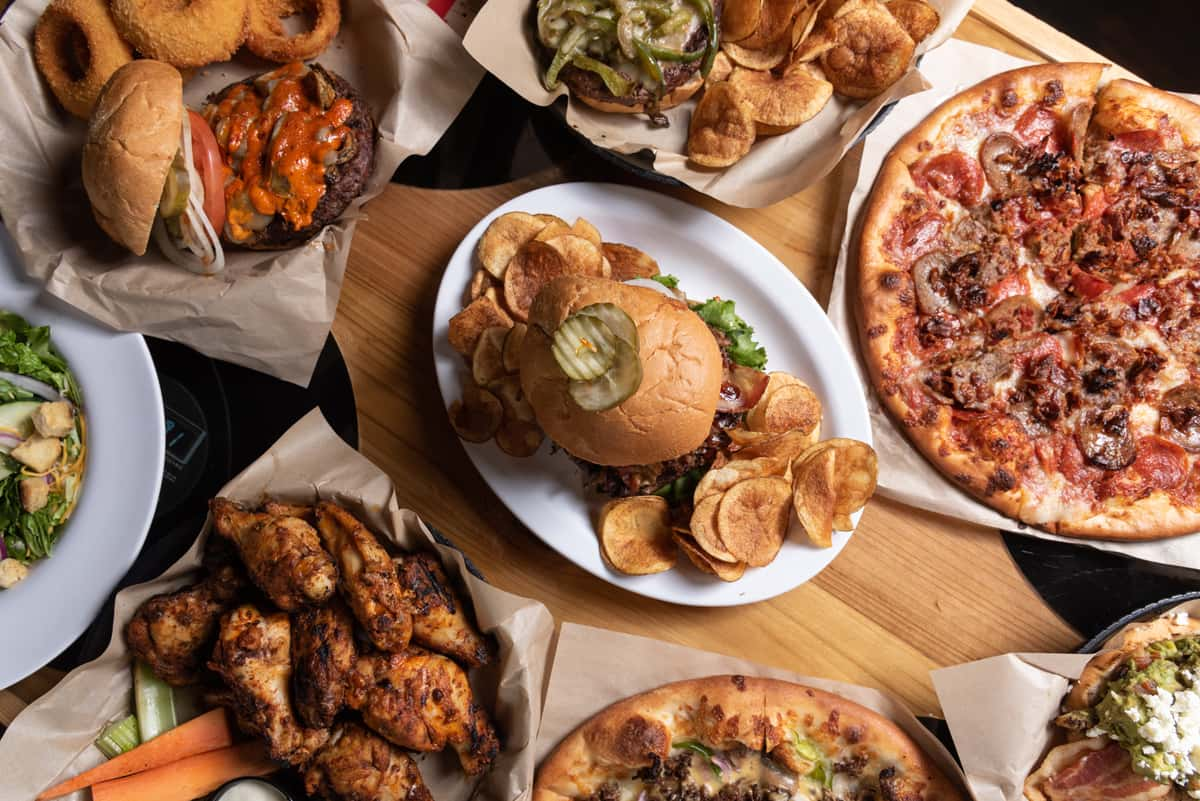 abbey road
tavern and grill // Fuquay-Varina
Order Online
Now offering online ordering! Place your order directly on our website!
Live Music, Open Mic Night, Sports & More
IF YOU CHOOSE TO DINE-IN
WE PLEDGE TO:
- Ensure safe sanitation practices are followed.
- Administer health checks to all staff prior to shift start.
- Make sure indoor and outdoor seating meets all physical distancing guidelines.
- Provide hand sanitizer or handwashing stations at all entrances.
- Clean and sanitize common areas, bathrooms and high-touch surfaces regularly using the CDC recommendations.
- Clean and sanitize all tables and hard surfaces after every use.
- Clean settings, utensils, menus and condiments after every use or provide single-use options.
Visit Us
Abbey Road Tavern and Grill
711 North Main Street.
Fuquay Varina, NC 27526

Hours
Monday - Friday:
11:00 am - 2:00 am
Saturday - Sunday:
9:00 am - 2:00 pm
Brunch available from 9am to 2pm
We value your feedback!
Every day we try to make Abbey Road a little better.
Leave a Review
"These house-made Jalapeno Poppers are outstanding - the best I've ever had at a restaurant"
"The cha cha bowl is so flipping amazing there really isn't enough words to describe it other than heaven in a bowl and indeed a blessing ! I love the flavors mixed together just adds to its freshness and to top it off with your signature jalapeño ranch dressing made in house man oh man It just tops it perfectly! Best food I've ever had and I need a gallon of that jalapeño ranch stuff ! I'm a cancer survivor and my taste buds were all messed up from chemo and radiation and so most days I only have a metallic taste and food is so bland but from day one when I tried your cha cha bowl I could actually taste the food and not the metallic taste or bland so I try to have it 2-3 times a week if possible! So I can actually sit and enjoy a meal with my family and friends and not stop eating after 3 bites due to the metallic taste ruining it is priceless so to me it's been a blessing and a joy to have it ! Thank you so much for helping me more than you ever could have known possible! ❤️"
"My favorite at Abbey Road! A very satisfying but not so heavy meal! Love the kick the jalapeño ranch gives!"
"We love their wings! They have a lot of meat on them and the grill flavor is amazing. Best wings in Holly Springs!"
"These house-made Jalapeno Poppers are outstanding - the best I've ever had at a restaurant"
"The cha cha bowl is so flipping amazing there really isn't enough words to describe it other than heaven in a bowl and indeed a blessing ! I love the flavors mixed together just adds to its freshness and to top it off with your signature jalapeño ranch dressing made in house man oh man It just tops it perfectly! Best food I've ever had and I need a gallon of that jalapeño ranch stuff ! I'm a cancer survivor and my taste buds were all messed up from chemo and radiation and so most days I only have a metallic taste and food is so bland but from day one when I tried your cha cha bowl I could actually taste the food and not the metallic taste or bland so I try to have it 2-3 times a week if possible! So I can actually sit and enjoy a meal with my family and friends and not stop eating after 3 bites due to the metallic taste ruining it is priceless so to me it's been a blessing and a joy to have it ! Thank you so much for helping me more than you ever could have known possible! ❤️"
"My favorite at Abbey Road! A very satisfying but not so heavy meal! Love the kick the jalapeño ranch gives!"
"We love their wings! They have a lot of meat on them and the grill flavor is amazing. Best wings in Holly Springs!"
"These house-made Jalapeno Poppers are outstanding - the best I've ever had at a restaurant"